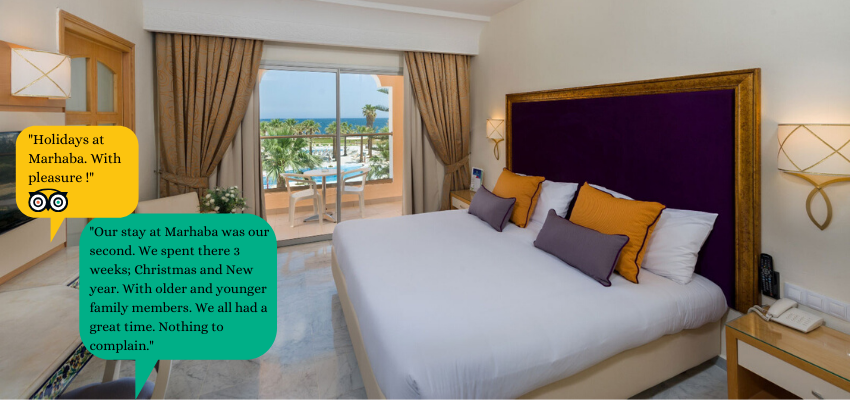 Always among the best: Marhaba Hotels are in top 10 best hotels in Sousse on TripAdvisor & Holidaycheck
We are proud to see our hotel's recognition on various occasions, on the main digital tourism platforms such as TripAdvisor, Holidaycheck ou Trivago.
Marhaba Palace 5* takes first place in the top best hotels in Port El Kantaoui according to the German users of Holidaycheck with a recommendation rate of 92.1%, based on the comments and opinions over the last year. We didn't want to leave spare places so our 3 others hotels occupy in order place 3 Marhaba Royal Salem, place 4 Marhaba Salem and place 5 Marhaba Beach.
When it comes to advertising, nothing is better than our guests' opinions. Which is why we read them daily, we take satisfaction in responding to all comments and we take note of each remark, in our commitment to constantly improve our services and offer our clients unforgettable experiences. In more than 50 years of hospitality we never ceased to analyze our guests' likes and interests for creating the perfect family holidays they are waiting for. All of which contributes to the fact that a large percentage of our hotels guests visit us year after year.
On TripAdvisor, whether we are talking about the travelers' notes or the price/quality criteria, our hotels occupy leading places, being in the Top 10 best hotels in Sousse and Port El Kantaoui.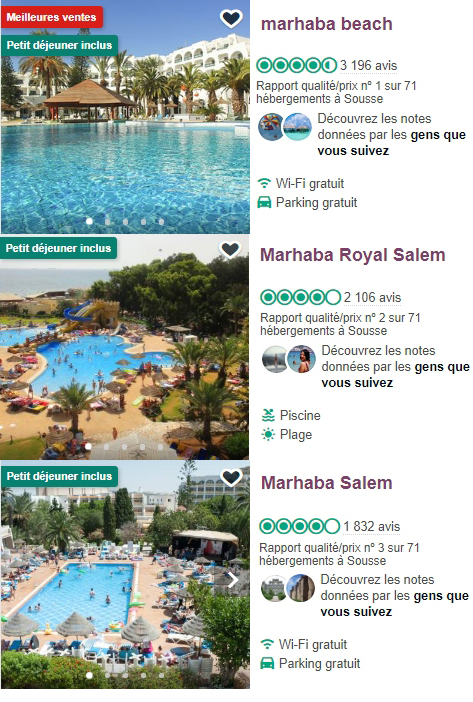 The main reasons for the success of hotels include location in privileged beach front spots, cozy rooms recently renovated or in full process of renovation, daily and nightly animation throughout the year and an attentive service customer oriented.
Have you already booked your next holiday in one of the Marhaba Hotels ? 🙂