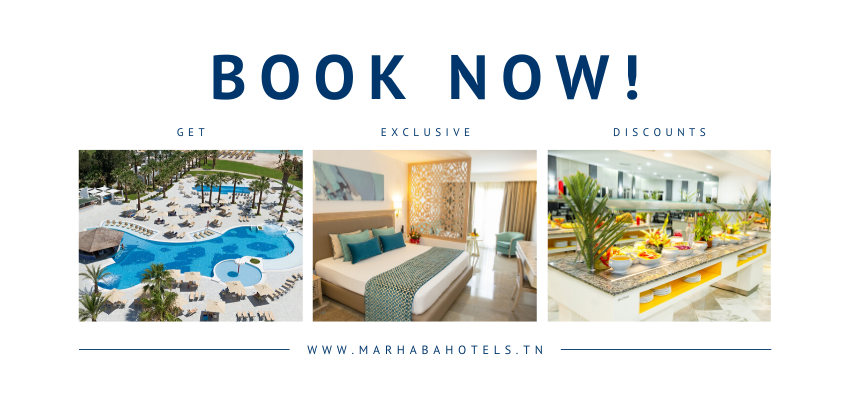 5 good reasons to book directly via our Marhaba Hotels website
Are you really aware of the advantages you could have when booking your holiday directly with the hotel? There's no need to spend hours browsing and comparing. Here are the benefits of making a reservation through our official website marhabahotels.tn
Book direct. Save time. Add value
1. The really best available price
When you book directly with us, we always guarantee the best available price on our website
2. Exclusive Special Offers
On our official website you will find exclusive special offers, excellent discounts and guaranteed savings. Maybe you are looking for an affordable family holiday, promotional offer for a long week-end or special offer for the festive season? You are guaranteed to find them. Start booking a room and take advantage of the discounts we offer.
To book at Marhaba Palace 5* Port El Kantaoui click HERE : https://bit.ly/2TzZvjj
To book at Marhaba Royal Salem 4* Sousse click HERE : https://bit.ly/2PYQwpr
To book at Marhaba Salem Resort 4* Sousse click HERE : https://bit.ly/2Ty9tSi
To book at Marhaba Beach 4* click HERE : https://bit.ly/3aD97PL
https://www.facebook.com/hotel.marhaba.beach2/videos/3039520552778914/
3. Direct communication with the hotel for a personalized stay
Imagine you are planning an anniversary and you have a special surprise request or you are travelling with a baby and you wish a baby cot. Or you have a room preference. For all these requests or any problems before or during your stay, you can contact us directly and we will go far and beyond to solve your situation since at MARHABA HOTELS there is nothing more important than the satisfaction of our guests.
4. No hidden booking costs
When booking directly with us, you are sure to pay the final price without any other duties and taxes which is why the price you are charged is significantly lower that what you can see on third party websites.
5. Safe Booking & no need to pay in advance
Your credit card information is only required to guarantee your booking. You will receive your booking confirmation but you can choose to pay upon arrival.
Hopefully we've had your attention and make you think about using direct booking in the future 🙂